The Computer is a block that can be placed. It is used to access the view of the Security Camera.
Usage
[
]
The Computer allows you to view through your cameras' lens. You can have many cameras assigned to one computer.
When clicking on a computer, a GUI with all available cameras appears. You can click one of the cameras to use it.
Camera Control
[
]
The camera view provides a hotbar that presents several options. These include:
Look left
Look right
Zoom
Night Vision
Spotting (turns on Spectral effect for players)
Crafting
[
]
The recipe for a Computer requires several redstone components: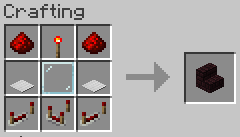 See Also
[
]